Asian and African Studies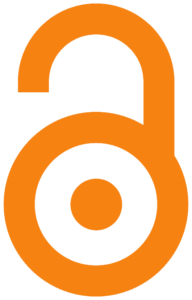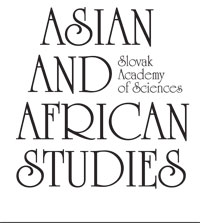 Published since 1965 by Institute of Oriental Studies of the Slovak Academy of Sciences in Bratislava. Each volume deals with subjects related to oriental culture, linguistics and history, with stress being laid on methodology. In addition to papers, review articles and critical reviews of publications on Asia, Africa and the Pacific appear. Along with Slovak Orientalists, scholars from abroad contribute to AAS as well. The policy of AAS is to publish papers largely in English and occasionally in French and German. Each research article in this journal has undergone peer review process, based on initial editor screening and consequent blind review by independent experts in the field.
The journal is published semi-anually, in May and November. The deadlines are at the end of June and at the end of December. The editorial board decides to publish articles according to the peer review results. The article should have 20 – 25 standard pages. Manuscripts submitted for publication should conform to the international academic standards now generally recognized as to the presentation and format. Bibliographies and citations shall comply with journal´s Style Sheet. The citation norm required for articles is ISO 690-2.
The journal Asian and African Studies is abstracted and indexed in: ESCI Web of Science Core Collection, Online Egyptological Bibliography (OEB), The Central European Journal of Social Science and Humanities, EBSCO HOST: America: History and Life, Historical Abstracts, SocINDEX, TOC Premier, Excerpta Indonesica, GenCAT, International African Bibliography, Linguistic Bibliography Online, Ulrich's Periodicals Dictionary (PROQUEST), SCOPUS, CSA FRANCIS, CSA Index Islamicus, CSA Linguistics and Language Behavior Abstracts, CSA Social Services Abstracts, CSA Sociological Abstracts, CSA Worldwide Political Science Abstracts, Slovak National Bibliography, WorldCat Catalogue.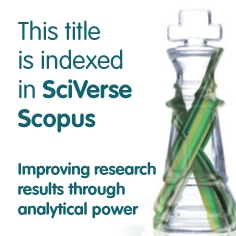 Type: Academic/Scholarly
Subject: Oriental studies, History of Africa, History of Asia, Linguistics
Language: English
Media: Print, Online
Frequency: Semi-annually
Special Features: Book Reviews
Start Year: 1965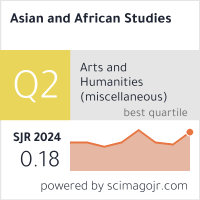 ISSN:
2585-8793 (online)
ISSN:
1335-1257 (print)
Print: Slovak Academic Press Ltd.
Prices for a print copy:
annual subscription for institutions – 40 euro
annual subscription for individuals – 20 euro
purchase of individual article – 5 euro
purchase of back issue – 12 euro
For subscription from abroad contact: Institute of Oriental Studies, Slovak Academy of Sciences, Klemenova 19, 813 64 Bratislava, Slovakia; E-mail: aassom@savba.sk
Editor In Chief: Mgr. Dušan Magdolen, PhD.
E-mail: aassom@savba.sk, kaorduma@savba.sk
Associate Editor: Mgr. Martina Herbst
E-mail: aassom@savba.sk

CONTENTS and ABSTRACTS
Vol. 32 (2023) No.1
Vol. 31 (2022) No.1, No.2
Vol. 30 (2021) No.1, No.2
Vol. 29 (2020) No.1, No.2
Vol. 28 (2019) No.1, No.2
Vol. 27 (2018) No.1, No.2
Vol. 26 (2017) No.1, No.2
Vol. 25 (2016) No.1, No.2
Vol. 24 (2015) No.1, No.2
Vol. 23 (2014) No.1, No.2
Vol. 22 (2013) No.1, No.2
Vol. 21 (2012) No.1, No.2
Vol. 20 (2011) No.1, No.2
Vol. 19 (2010) No.1, No.2
Vol. 18 (2009) No.1, No.2
Vol. 17 (2008) No.1, No.2
Vol. 16 (2007) No.1, No.2
Vol. 15 (2006) No.1, No.2
Vol. 14 (2005) No.1, No.2
Vol. 13 (2004) No.1, No.2
Vol. 12 (2003) No.1, No.2
Vol. 11 (2002) No.1, No.2
Vol. 10 (2001) No.1, No.2
Vol. 09 (2000) No.1, No.2
Vol. 08 (1999) No.1, No.2
Vol. 07 (1998) No.1, No.2
Vol. 06 (1997) No.1, No.2
Vol. 05 (1996) No.1, No.2
Vol. 04 (1995) No.1, No.2
Vol. 03 (1994) No.1, No.2
Vol. 02 (1993) No.1, No.2
Vol. 01 (1992) No.1, No.2
Increase in frequency
Vol. 26 (1991)
Vol. 25 (1990)
Vol. 25 (1989)
Vol. 24 (1988)
Vol. 23 (1987)
Vol. 22 (1986)
Vol. 21 (1985)
Vol. 20 (1984)
Vol. 19 (1983)
Vol. 18 (1982)
Vol. 17 (1981)
Vol. 16 (1980)
Vol. 15 (1979)
Vol. 14 (1978)
Vol. 13 (1977)
Vol. 12 (1976)
Vol. 11 (1975)
Vol. 10 (1974)
Vol. 9 (1973)
Vol. 8 (1972)
Vol. 7 (1971)
Vol. 6 (1970)
Vol. 5 (1969)
Vol. 4 (1968)
Vol. 3 (1967)
Vol. 2 (1966)
Vol. 1 (1965)