Studia Orientalia Monographica
is a scientific monographic series founded in 2010 on the occassion of the 50th anniversary of establishing the Institute of Oriental Studies at the Slovak Academy of Sciences. The goal of this series is to provide publishing space for the results of scientific research in the form of monographic edition open to Slovak and foreign orientalists, covering all fields of oriental studies, such as history, archeology, linguistics, literature, philosophy, religion science, ethnology, arts etc. Studia Orientalia Monographica is published annually in English and in cooperation with the publishing house Slovak Academic Press, Ltd.
For more detailed information, please contact Managing Editor:
Mgr. Martina Herbst
Institute of Oriental Studies
Slovak Academy of Sciences
Klemensova 19
813 64 Bratislava
Slovakia
Tel./fax: +421-2-52926326
E-mail: aassom@savba.sk
---
Volume 1
Drozdík Ladislav: Non-Finite Relativization. A Typological Study in Accessibility.
Studia Orientalia Monographica, Volume 1, Bratislava: Slovak Academic Press 2010, 126 pages. ISBN 978-80-8095-066-08.
Price: € 35.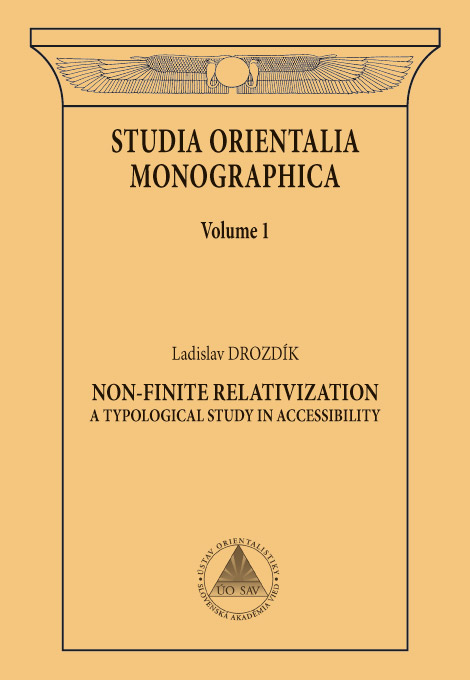 The work studies syntactic positions compatible with relativization by non-finite relative clauses. The typological orientation of the work appears in confronting the features analyzed in four genetically and structurally different languages: Standard Arabic, Hungarian, Turkish and Korean. Some selected features are confirmed also in Modern Hebrew (in relation to Arabic) and Japanese (in relation to Korean).
---
Volume 2
RÁCOVÁ, Anna. Modality in Bengali.
Studia Orientalia Monographica, Vol. 2. Slovak Academic Press, Bratislava 2011. xiv + 111 pages. ISBN 978-80-8095-074-3.
Price: € 35.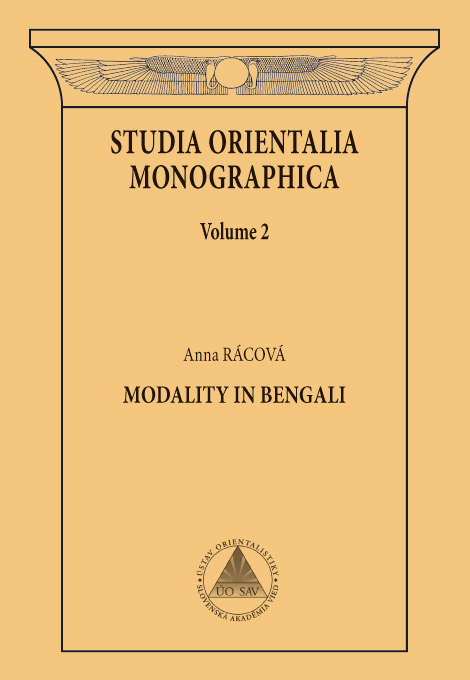 The book describes the basic concepts and types of modality found in Bengali, classifies them and concurrently shows through which linguistic means the individual modal domains are expressed in Bengali within socio-cultural environment. Close attention in particular is paid to the event modality, but the propositional (epistemic) modality is also considered. The analysis presents both similarities and differences in the expression of this cross-linguistic semantic category between Bengali and other languages.
---
Volume 3
BUCKOVÁ, Martina, MĀUI: POLYNESIAN CULTURE HERO. Variations of Motifs in Māui's Mythological cycle in East and West Polynesia.
Studia Orientalia Monographica, Vol. 3. Slovak Academic Press, Bratislava 2012. XI+105 pages. ISBN 978-80-89607-06-8.
Price: € 35.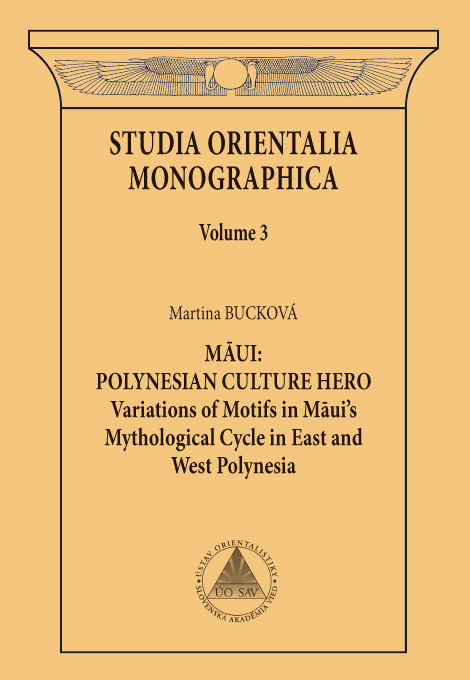 The monography deals with the problem of Polynesian culture hero – in local mythology named Māui. The purpose of this work is to summarise, analyse and compare individual motifs in the mythological cycle of this culture hero – who appears not only in Polynesia, but also in the mythology of Melanesia and Micronesia. I concentrated especially on searching the like and unlike motifs in eastern Polynesian and western Polynesian myths. The focus lays in comparing the mythological motifs from Māui cycle which relate to his most important actions – fishing up islands from the bottom of the sea, lifting the skies from the earth, restraining the movement of the sun in the sky, bringing the gift of fire and attempt at gaining immortality for mankind. Based on information acquired the purpose was to build a typology and overview of differences in the selected individual myths about this culture hero.
---
Volume 4
PAWLIKOVÁ-VILHANOVÁ, Viera. The Production of History and Culture in Africa Revisited.
Studia Orientalia Monographica, Vol. 4. Slovak Academic Press, Bratislava 2013. 119 pages. ISBN 978-80-8095-085-9.
Price: € 35.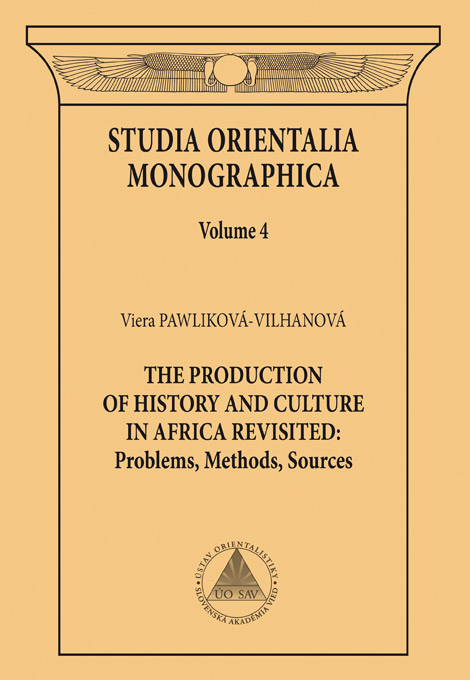 The study traces the history of the writing of African history since the 1950s when African history became radically redefined and reassessed and African historical studies started to move beyond the limitations of the previous historical scholarship. It attempts
to reflect some of the difficulties specific to the study of African history, to assess some of the developments and issues regarding the constitution of African history as a field of academic specialisation in Africa and outside the continent, to consider the traditions of African history writing and the theoretical and ideological debates about past, present and future challenges African historical studies have been facing, concentrating mainly on historical research and writing in some regions of sub-Saharan Africa, Anglophone and Francophone.
---
Volume 5
SIL P., Narasingha. Rabindra Miscellany. Critical Essays on Rabindranath Tagore's Thoughts on Love, Life, Gender, God and Patriotism.
Studia Orientalia Monographica, Vol. 5. Slovak Academic Press, Bratislava 2014. 133 pages. ISBN 978-80-89607-35-8.
Price: € 35.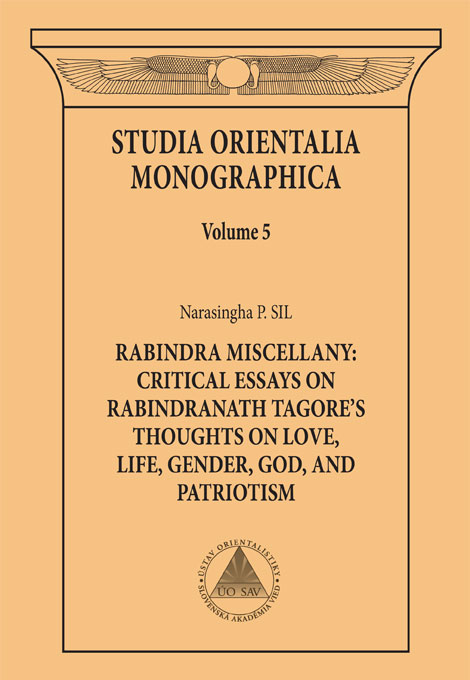 "Rabindra Miscellany" is a critical study of some thoughts and writings of Rabindranath Tagore, India's most brilliant poet, philosopher, and polymath.  The five essays − one of them a translation of a chapter of the distinguished Tagore scholar Niharranjan Ray's book "Bhāratīya aitihya o Rabīndranāth" − seek to offer a  window to the panoramic expanse of Tagore's intellect and imagination that informed his ideas of human and divine love,
aesthetic consciousness,  nationalism and cosmopolitanism. The poet's works discussed in this study highlight his evolving ideas of this world and its inhabitants as part of a majestic cosmic order emanating from a divine source that he never identifies with any divinity from the world's leading faiths.  Yet he recognizes its presence in everyone's soul and he designates this innermost ["antaratama"] divine presence as his God of Life ["Jībandebatā"].
---
Volume 6
Beška, Emanuel. From Ambivalence to Hostility: The Arabic Newspaper Filasṭīn and Zionism, 1911–1914.
Studia Orientalia Monographica, Volume 6. Bratislava: Slovak Academic Press, 2016, 161pages. ISBN 978-80-89607-49-5.
Price: € 35.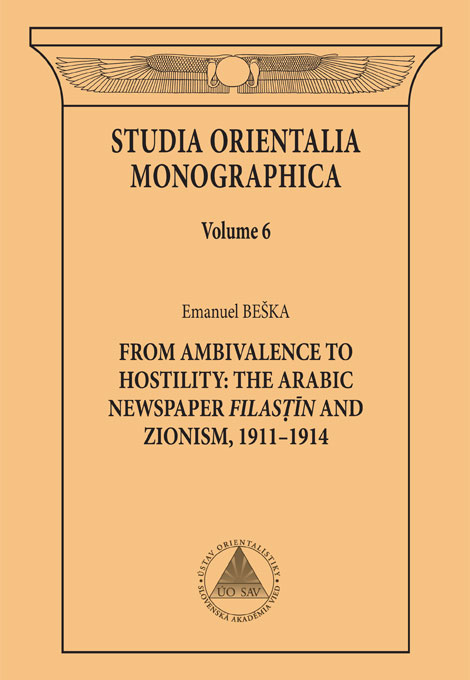 The monograph From Ambivalence to Hostility focuses on writings on Zionism published in the Arabic newspaper Filasṭīn (ʻPalestine') in the pre-WWI period (1911–1914). It covers a broad range of subjects treated by the periodical including Jewish land purchases in and immigration to Palestine, violent incidents between the Jewish and the Arab communities, Zionist boycott and Zionist Congresses. The second chapter of the book offers a detailed analysis of the gradual yet profound transformation of Filasṭīn's editorial policy vis-à-vis Zionism before World War I.
---