Studia Orientalia Monographica
is a scientific monographic series founded in 2010 on the occassion of the 50th anniversary of establishing the Institute of Oriental Studies at the Slovak Academy of Sciences. The goal of this series is to provide publishing space for the results of scientific research in the form of monographic edition open to Slovak and foreign orientalists, covering all fields of oriental studies, such as history, archeology, linguistics, literature, philosophy, religion science, ethnology, arts etc. Studia Orientalia Monographica is published annually in English and in cooperation with the publishing house Slovak Academic Press, Ltd.
For more detailed information, please contact Managing Editor:
Mgr. Martina Herbst
Institute of Oriental Studies
Slovak Academy of Sciences
Klemensova 19
813 64 Bratislava
Slovakia
Tel./fax: +421-2-52926326
E-mail: aassom@savba.sk
---
Volume 1
Drozdík Ladislav: Non-Finite Relativization. A Typological Study in Accessibility.
Studia Orientalia Monographica, Volume 1, Bratislava: Slovak Academic Press 2010, 126 pages. ISBN 978-80-8095-066-08.
Price: € 35.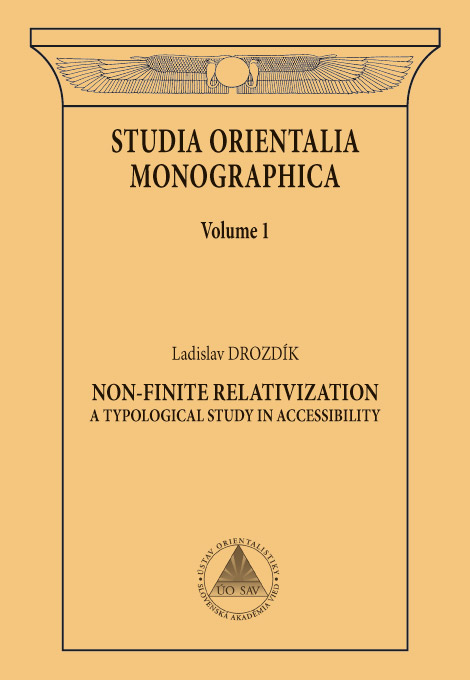 The work studies syntactic positions compatible with relativization by non-finite relative clauses. The typological orientation of the work appears in confronting the features analyzed in four genetically and structurally different languages: Standard Arabic, Hungarian, Turkish and Korean. Some selected features are confirmed also in Modern Hebrew (in relation to Arabic) and Japanese (in relation to Korean).
---
Volume 2
RÁCOVÁ, Anna. Modality in Bengali.
Studia Orientalia Monographica, Vol. 2. Slovak Academic Press, Bratislava 2011. xiv + 111 pages. ISBN 978-80-8095-074-3.
Price: € 35.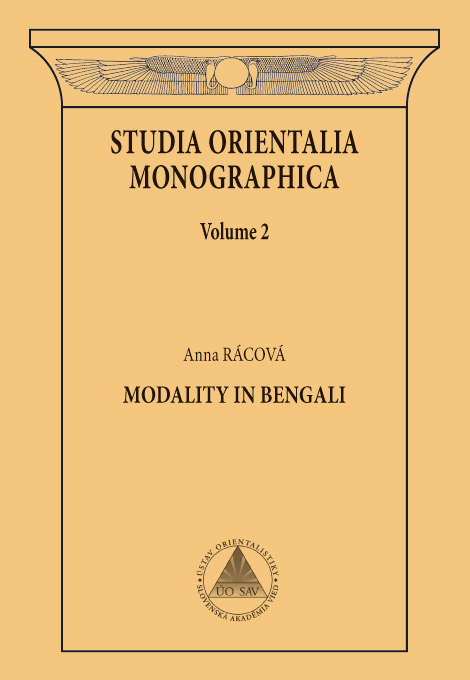 The book describes the basic concepts and types of modality found in Bengali, classifies them and concurrently shows through which linguistic means the individual modal domains are expressed in Bengali within socio-cultural environment. Close attention in particular is paid to the event modality, but the propositional (epistemic) modality is also considered. The analysis presents both similarities and differences in the expression of this cross-linguistic semantic category between Bengali and other languages.
---
Volume 3
BUCKOVÁ, Martina, MĀUI: POLYNESIAN CULTURE HERO. Variations of Motifs in Māui's Mythological cycle in East and West Polynesia.
Studia Orientalia Monographica, Vol. 3. Slovak Academic Press, Bratislava 2012. XI+105 pages. ISBN 978-80-89607-06-8.
Price: € 35.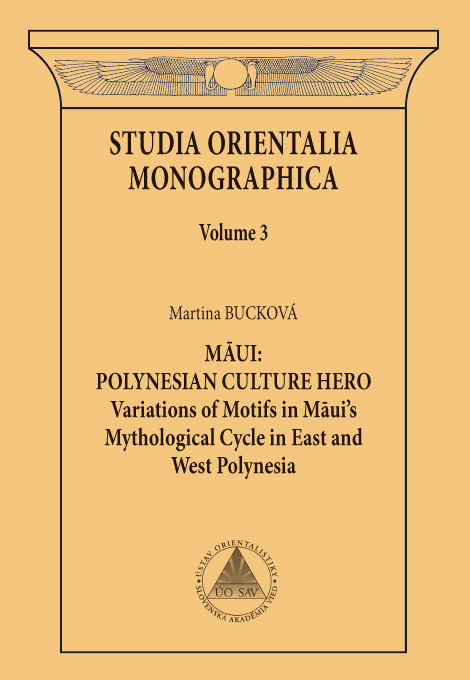 The monography deals with the problem of Polynesian culture hero – in local mythology named Māui. The purpose of this work is to summarise, analyse and compare individual motifs in the mythological cycle of this culture hero – who appears not only in Polynesia, but also in the mythology of Melanesia and Micronesia. I concentrated especially on searching the like and unlike motifs in eastern Polynesian and western Polynesian myths. The focus lays in comparing the mythological motifs from Māui cycle which relate to his most important actions – fishing up islands from the bottom of the sea, lifting the skies from the earth, restraining the movement of the sun in the sky, bringing the gift of fire and attempt at gaining immortality for mankind. Based on information acquired the purpose was to build a typology and overview of differences in the selected individual myths about this culture hero.
---
Volume 4
PAWLIKOVÁ-VILHANOVÁ, Viera. The Production of History and Culture in Africa Revisited.
Studia Orientalia Monographica, Vol. 4. Slovak Academic Press, Bratislava 2013. 119 pages. ISBN 978-80-8095-085-9.
Price: € 35.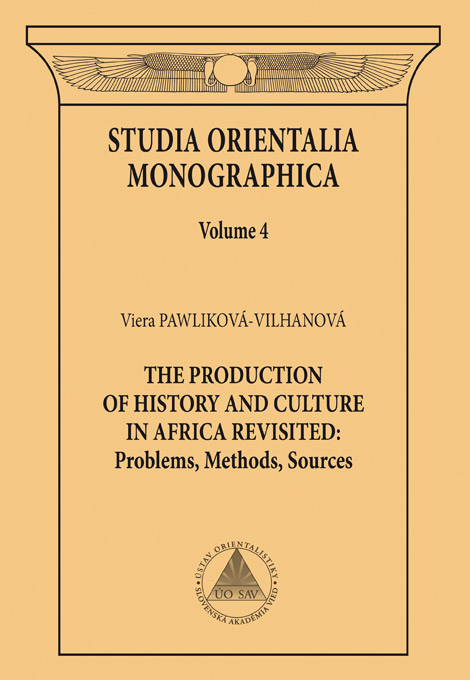 The study traces the history of the writing of African history since the 1950s when African history became radically redefined and reassessed and African historical studies started to move beyond the limitations of the previous historical scholarship. It attempts
to reflect some of the difficulties specific to the study of African history, to assess some of the developments and issues regarding the constitution of African history as a field of academic specialisation in Africa and outside the continent, to consider the traditions of African history writing and the theoretical and ideological debates about past, present and future challenges African historical studies have been facing, concentrating mainly on historical research and writing in some regions of sub-Saharan Africa, Anglophone and Francophone.
---
Volume 5
SIL P., Narasingha. Rabindra Miscellany. Critical Essays on Rabindranath Tagore's Thoughts on Love, Life, Gender, God and Patriotism.
Studia Orientalia Monographica, Vol. 5. Slovak Academic Press, Bratislava 2014. 133 pages. ISBN 978-80-89607-35-8.
Price: € 35.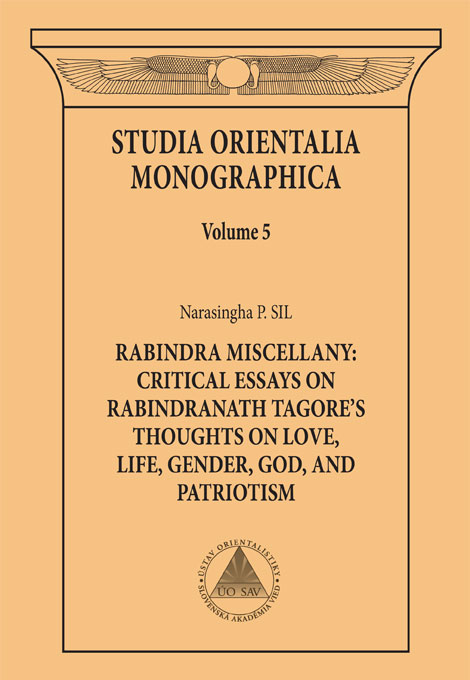 "Rabindra Miscellany" is a critical study of some thoughts and writings of Rabindranath Tagore, India's most brilliant poet, philosopher, and polymath. The five essays − one of them a translation of a chapter of the distinguished Tagore scholar Niharranjan Ray's book "Bhāratīya aitihya o Rabīndranāth" − seek to offer a window to the panoramic expanse of Tagore's intellect and imagination that informed his ideas of human and divine love,
aesthetic consciousness, nationalism and cosmopolitanism. The poet's works discussed in this study highlight his evolving ideas of this world and its inhabitants as part of a majestic cosmic order emanating from a divine source that he never identifies with any divinity from the world's leading faiths. Yet he recognizes its presence in everyone's soul and he designates this innermost ["antaratama"] divine presence as his God of Life ["Jībandebatā"].
---
Volume 6
Beška, Emanuel. From Ambivalence to Hostility: The Arabic Newspaper Filasṭīn and Zionism, 1911–1914.
Studia Orientalia Monographica, Volume 6. Bratislava: Slovak Academic Press, 2016, 161pages. ISBN 978-80-89607-49-5.
Price: € 35.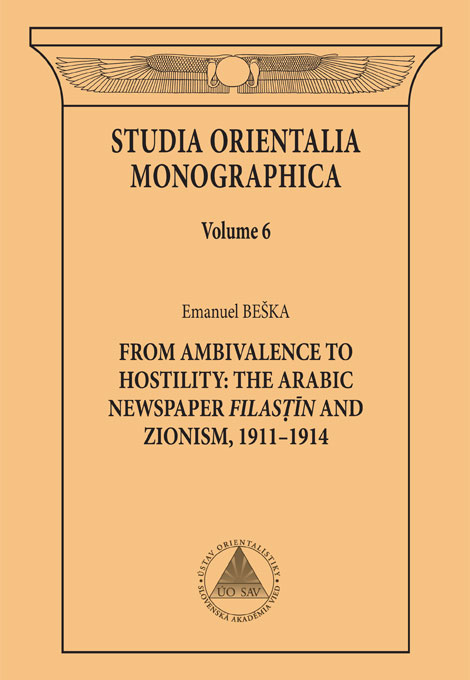 The monograph From Ambivalence to Hostility focuses on writings on Zionism published in the Arabic newspaper Filasṭīn (ʻPalestine') in the pre-WWI period (1911–1914). It covers a broad range of subjects treated by the periodical including Jewish land purchases in and immigration to Palestine, violent incidents between the Jewish and the Arab communities, Zionist boycott and Zionist Congresses. The second chapter of the book offers a detailed analysis of the gradual yet profound transformation of Filasṭīn's editorial policy vis-à-vis Zionism before World War I.
---
Volume 7
SIL P., Narasingha. Ramakrishna Miscellany: A Comparative Study. Studia Orientalia Monographica.
Studia Orientalia Monographica, Volume 7. Bratislava: Slovak Academic Press, 2017, 115 pages, ISBN 978-80-89607-59-4.
Price: € 35.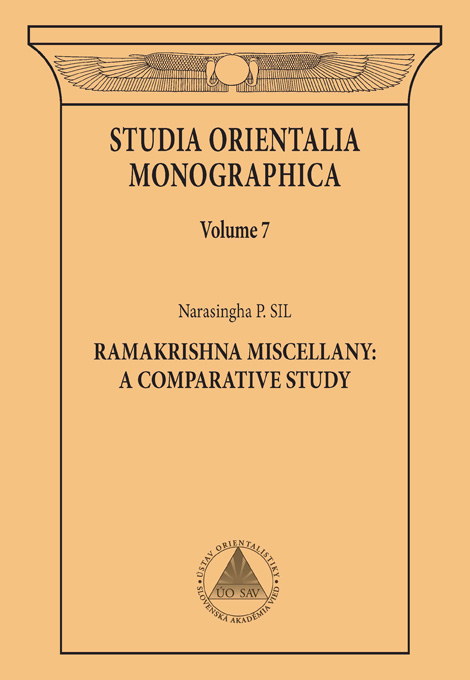 Rāmakṛṣṇa Miscellany: Abstract
Despite Rāmakṛṣṇa Paramahaṁsa's (1836-86) reputation as a Tāntrika in view of his being a priest of the Kālī temple at the village of Dakshineshvar in the northern suburb of Calcutta, this study posits that his piety had deep roots in Bengal Vaiṣṇavism (cult of Viṣṇu) at large and in the devotional tradition of his family. His family deity Lord Raghuvῑra (Lord Rāma) was considered as an incarnation of the Vedic-Purāṇic God Viṣṇu and thus a Vaiṣṇava deity by extension. This counter thesis on the saint's religious identity is supported by an analysis of his emphasis on bhakti [devotion] for and biśvās [faith] in God. My analysis is predicated on a comparison of Rāmakṛṣṇa with two religious reformers of the sixteenth century: the Bengali saint Śrīcaitanya (1486-1533), founder of bhakti movement in Bengal and the German monk Martin Luther (1483-1546), the intellectual child of the twin movements of Humanism and Devotio Moderna, and the progenitor of the so-called Protestant movement that foregrounded fiducia [faith] as the highway to divine grace. Rāmakṛṣṇa's imitation of Caitanyite Vaiṣṇavism, and thus his reliance on devotion and faith appear almost similar to Luther's reliance on a merciful and yet a just God through fides [turst or biśvās]. Such a cross-cultural comparative study has not been attempted by any other scholar. Rāmakṛṣṇa's Vaiṣṇava orientation also helps us understand his sexuality. The currently influential construction of a homoerotic Tāntrika Rāmakṛṣṇa is countered by exploring the fundamental convergence between the Hindu concept of prema and the Christian concept of agape or caritas—both standing for love for, as well as love of, God.
Admittedly, there are marked differences among the three religious personalities, particularly between Rāmakṛṣṇa and Luther. Both are radically different personalities in respect of their cultural background, social outlook, and theological consciousness, especially in their understanding of human-divine relationship. Luther's Judeo-Christian conception of God as an absolutely sovereign and yet a merciful deity is markedly different from Rāmakṛṣṇa's Vaiṣṇavic image of God as a loving and playful companion of the devotee. Yet their spiritual experiences in their quest for the divine show a similar reliance on faith and devotion.
I also discuss the interface between sexual and spiritual consciousness in Rāmakṛṣṅa's life and teachings, especially because of his Tāntrika identity in the West. The understanding of Tantra as an esoteric cult indulging in clandestine carnal orgies has dovetailed into the saint's imagined "unconscious" homoerotic desires and behaviors. This comparative exercise thus seeks to achieve the author's dual objective of foregrounding Rāmakṛṣṇa's innate Vaiṣṇavic consciousness that is close to Luther's Protestant faith and to deconstruct the former's homoerotic profile by interpreting his sexuality in the context of his culture and creed.
Needless to mention, I use vernacular sources on Rāmakṣṇa throughout with my own translation. This has the unique advantage of getting at the facts as recorded by the actors personally or perceived and experienced by the contemporaries and eyewitnesses directly.
---
Volume 8
TRNOVEC, Silvester. The Conquest of the African Mind: History, Colonial Racism, and Education in Senegal and French West Africa, 1910 – 1945
Studia Orientalia Monographica, Vol. 8. Bratislava: Slovak Academic Press, 2019. ISBN: 978-80-89607-83-9.
Price: € 35.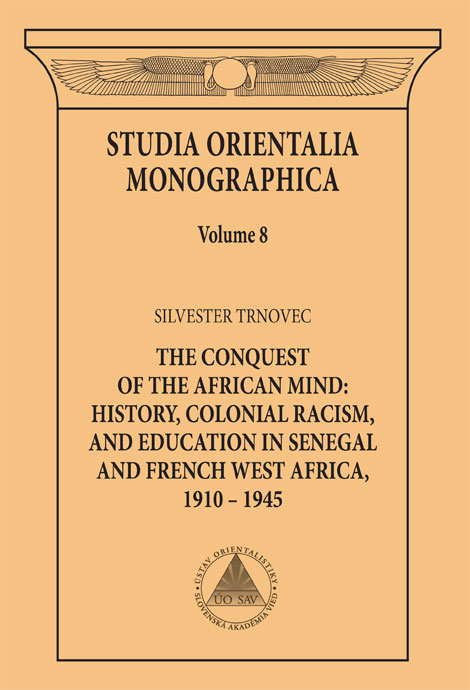 The monograph discusses the relation between primary education in French West Africa in the first half of twentieth century and the attempts of colonial administration to identify the conquered African population with the French Empire. It primarily focuses on the way the pupils of diverse ethnic origin such as Wolof, Fulani, Bambara or Serer, who attended the French primary schools in the villages and towns in Senegal or French Soudan, learned to be Africans but also to be French. It puts particular emphasis on teaching history and inevitably addresses another important issues such as the implication of French nationalism, imperialism and colonial racism in the education of African pupils. By studying these relationships, the monograph aims to sheds more light on the roots of various stereotypes about Africa and Africans in the present day Western society and vice versa. In order to to better illustrate the most important aspects, most of this work focuses on colonial Senegal.
---
Volume 9
SORBY, Karol Jr.. Iraq during the Reign of King Ghāzī (1933 – 1939).
Studia Orientalia Monographica, Vol. 9. Bratislava: Slovak Academic Press, 2020. 100 s. ISBN 978-80-89607-94-5.
Price: € 35.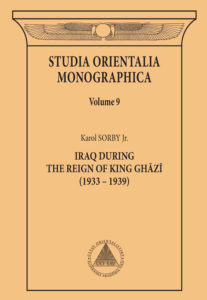 Although Iraq is a comparatively new state and a relatively small country, it has had a remarkably rich and varied history. The subject of this monograph is still highly relevant. It covers the history of Iraq in the 1930s, when Europe experienced a crisis and the demise of the Versailles system of balance of power, associated with Hitler's rise to power in Germany, Italy's military-political activity in North and East Africa, and the efforts of the colonial powers, Britain and France to strengthen their positions in the Middle East through alliance agreements. The beginnings of a political culture were emerging in Iraq at this time, which have become typical of later developments. There was the first classic military coup in the Arab world, which for the next thirty or more years became a typical method of army officers for intervening in the political destinies of their countries. In addition, foreign policy issues first emerged in Iraq, were leading to conflicts with neighbouring countries.
The author has succeeded in bringing to light new facts in the subject of his research even in relatively limited space and on familiar topic. The author is a master of detail, and at the same time he knows how to focus on key periods and key events. The first, second and third chapters deal with the turbulent domestic political situation after the accession of King Ghāzī to the throne from 1933 to 1936. The fourth and fifth chapters are very useful ones, in which the author deals with the military coup of October 1936 under General Bakr Ṣidqī and traces subsequent political developments inspired by the wave of Iraqi patriotism and Arab nationalism. In the last chapter the author analyses the political development of the country in the period before the outbreak of World War II, when the reins of power were held by supporters of Great Britain. The military, represented by a group of "seven officers" united by Sunni descent, a pan-Arab vision of a future Iraq, and a belief in the need for a firm hand and discipline, remained a persistent factor in Iraqi politics.
The domestic political event that shook public opinion was the mysterious fatal accident of King Ghāzī on 3 April 1939, who enjoyed considerable popularity among the ordinary people. The king allegedly "died in a car accident". On a straight road, with a shattered skull, he was found in the wreckage of a car that crashed into a telegraph pole. It was common knowledge that the King of Iraq was not well liked in London, so he was generally believed to have been "silenced" as a result of a pro-British conspiracy. The work meets all the requirements for a monograph of this nature. It is an excellent historical work, which far exceeds the current level of elaboration of the subject of Arab countries and will undoubtedly be included in a broader scientific research of the history of the Middle East in the 20th century.
---
Volume 10
BEŠKOVÁ, Katarína. Mahfouzian Nights: Fate, Desire and Politics in Layālī Alf Layla
Studia Orientalia Monographica, Vol. 10. Bratislava: Slovak Academic Press, 2021. ISBN: 978-80-8265-000-9.
Price: € 35.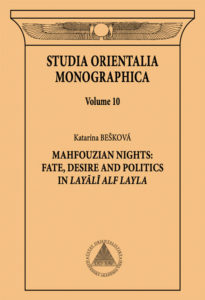 The monograph Mahfouzian Nights: Fate, Desire and Politics in Layālī Alf Layla examines the influence of the collection of the Thousand and One Nights on Najīb Maḥfūẓ's (1911 – 2006) novel Layālī alf layla [Nights of the Thousand Nights, 1982; translated into English as Arabian Nights and Days]. The study explores intertextual relationship between the two works and identifies possible parallels between Maḥfūẓ's novel and the collection of popular stories, taking into account their historical, socio-political and cultural background. It also tries to demonstrate different ways in which the pre-modern work influenced Maḥfūẓ's writing, with special emphasis on similarities between certain motifs and themes that the two works share. The main focus of this monograph is hence put on further exploration of themes like fate, desire, madness, political criticism and Sufism in Maḥfūẓ's work, their understanding, mutual interactions and interconnectedness and to show how they fit together in a mosaic of Maḥfūẓ's perception of reality and his view of the socio-political challenges of the era.